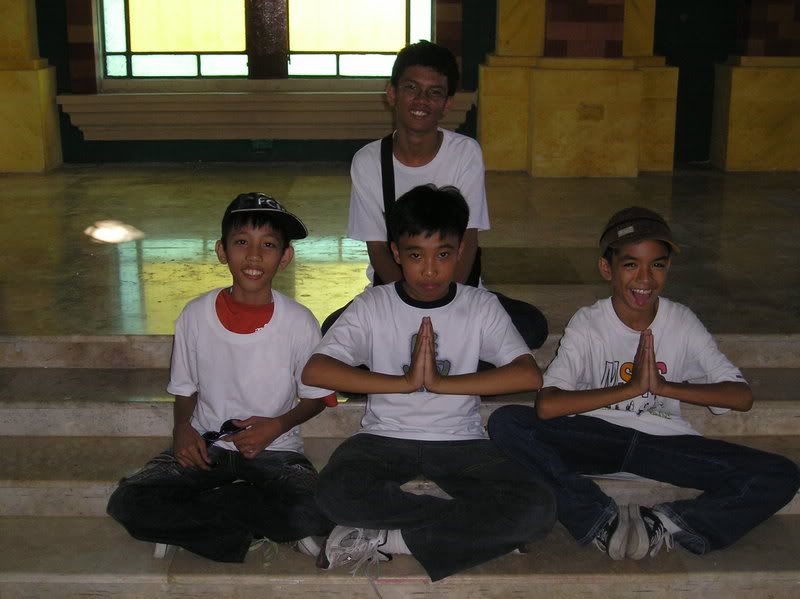 Kulang etong nasa pic, okay? Marty doesn't want to be shot with them, eh, wanko... Nagmamadali sa pagliwaliw sa Fantasy World. Obviously, ako yung kumuha nitong pic... Oi. Hindi ako nagplano nung pose nila ah. Sila nagusap diyan...

After classes yesterday, the five of us: me, Jommel, Ken Marvin, Ronerick, Marty, and Lorenz treated each other for a drink...toast! It was like a reunion (Nyaaakkkss[mga certain Jommel kasi nangaagaw ng drinks... kay Ronerick yun!! Nagalit tuloy =P]).
I remembered the time we went to Festival Mall after the last 3rd Periodical test, that was before our Christmas party. We played arcades and buy Pokemon figurines. Then, those devious friends of mine decided to leave Marty alone because he was buying Magic the Gathering cards. I parted with Jommel and Ronerick and Lorenz go together. Fortunately, Marty caught up with them. Ken Marvin wasn't with us that time because his parents won't let him. Of course they wouldn't it was all of a sudden.
They were with me because of Pokemon they wanted more and more information about Pokemon. Well, except kay Lorenz, pero interested din siya sa Pokemon (and yung cellphone ko wherein he want to play...uh was that Miami Nights or something?). Oh, and dahil sa paminsan-minsan (LAGI-LAGI!!) kong paglibre sa kanila... I can't say 'no'... T__T
Ngayong second year na nagkikita pa rin kami, in between breaks or lunch and after classes. Jommel, meanwhile, go online sometimes.
Here were my peer/barkada/whatever (mwahaha!!):
Jommel - he was my first most close friend in MunSci other than Shaine and Nikki. Pervert (mga taga SMS talaga), devious, small but terrible (Beh), co-anti-Shaine

Marty - from borrowing K-Zone to seatmate to Pokemon information to "libre mo ako" to almost loyal friend... he does anything for me... in my command. He can't say no to me. Loves Yanma. Manya. Yaman. Weeehhh

Ken Marvin - loves to draw girls. "Papasabugin ko ang one Aris bukas. Mwahaha". LoL. Loves Duskull and Rotom, searched all their biological something that he always talks about.

Ronerick - MATH!!! Hahaha... Matalino 'to. Kopyahan ng bayan sa Elec. Math nung 1st year. I think his favorite is Rattata. Joke lang. Pikachu ata. He doesn't say. Paalala kay Ronerick: May utang ka pang signature sa akin.

Lorenz - pervert. Loyal to his religion, INC. Sensitive, hyper active, cute [daw], sometimes serious. At my first day at MunSci, he kept on dusting his pants that made me notice him as "clean". Though, he is careless.
Others
Edrun - Smart, shy, hyper active, malalim boses, Rondalla member, befriended with him because he is "Christian"

Nark - hmm... hmm... Under inquisition
Marty, please remember the Pokemon Chronicles, please.
That's all for now, haaayyy.....'bye! Evanesco!