As a Christmas special post to all of you:
Ephesians 1: 7-12 (NRSV)
7

In him we have redemption through his blood, the forgiveness of sins, in accordance with the riches of God's grace

8

that he lavished on us with all wisdom and understanding.

9

And he made known to us the mystery of his will according to his good pleasure, which he purposed in Christ,

10

to be put into effect when the times will have reached their fulfillment - to bring all things in heaven and on earth together under one head, even Christ.

11

In him we were also chosen, having been predestined according to the plan of him who works out everything in conformity with the purpose of his will,

12

in order that we, who were the first to hope in Christ, might be for the praise of his glory.
Ah, gift giving. The traditional way of celebrating Christmas. Have you ever wondered what the greatest gift might be? Afar from gold, cash, Peso, whatever means of treasure. Christmas is a time for giving and sharing, not making money. What is the greatest gift you've received? Everybody had received it since birth, the love of God. His love was given out by means of Jesus, the indescribable gift. That makes God as the great gift giver. As what is said in the text, we should count our blessings. Living in His world counts as a blessing. Soliciting, donating, etc... that's nothing.

For the year 2008, let us count our blessings and see and or witness all of God's greatest gift.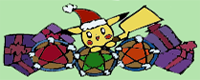 Merry Christmas, everybody!
Maligayang Pasko sa inyo!
Happy holidays!

Evanesco!